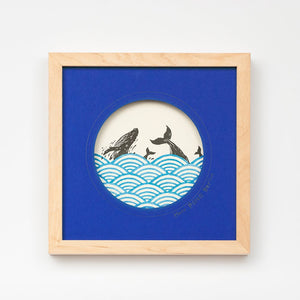 Inspired by an unforgettable Whale watching experience in Northern Norway.
The Art Print was created by hand carved Linoleum and hand stamped by the designer, inspired by Japanese Traditional wood prints.
These beautiful Humpback whales were around Kaldfjord in Kvaløya, Tromsø area, where they were going after the herrings. They were feeding themselves up, for a long journey to the tropical water.

Art work size - 20 x 20 cm 
Bass wood Frame size - 21.8 x 21.8 cm
Designed, Handmade in Berlin.